Thiruvananthapuram:
The Congress in Kerala today screened a controversial BBC documentary focusing on PM Narendra Modi in the capital Thiruvananthapuram. Due to which the central government has ordered to block tweets sharing BBC documentary criticizing Prime Minister Narendra Modi. The tweet that shared the YouTube link of the BBC documentary has also been blocked. However, in the entire incident, it is noteworthy that Anil Antony, the son of former Kerala CM AK Antony, a veteran Congress leader, has resigned from the party after objecting to this BBC documentary. Anil Antony alleged that he was forced to delete his tweet after objecting to a BBC documentary on PM Modi. Dissenting Congress leader Rahul Gandhi's stand on the issue, Anil Antony wrote in a tweet that 'prioritizing the views of British broadcasters over Indian institutions will 'disrespect' the country's sovereignty'.
Anil Antony said he had 'no problem' with anyone in the Congress party, including Rahul Gandhi, but 'in the 75th year of our independence, we cannot allow foreigners or their institutions to undermine our sovereignty. 'Junior Antony made the statement.' This statement was made when Rahul Gandhi was interacting with reporters in Jammu during his 'Join India Yatra'. The government's efforts to curb online sharing of documentaries in the country were questioned. Former Congress President Rahul Gandhi said that 'If you read our Vedas, Bhagavad Gita or Upanishads, you will find that it is written there that truth cannot be hidden. The truth always comes out. "So you can ban the press, you can suppress it, you can control institutions, you can use CBI, ED etc., but the truth is the truth," he said. The truth shines differently because no amount of bans, repression and threats to people will prevent the truth from coming out.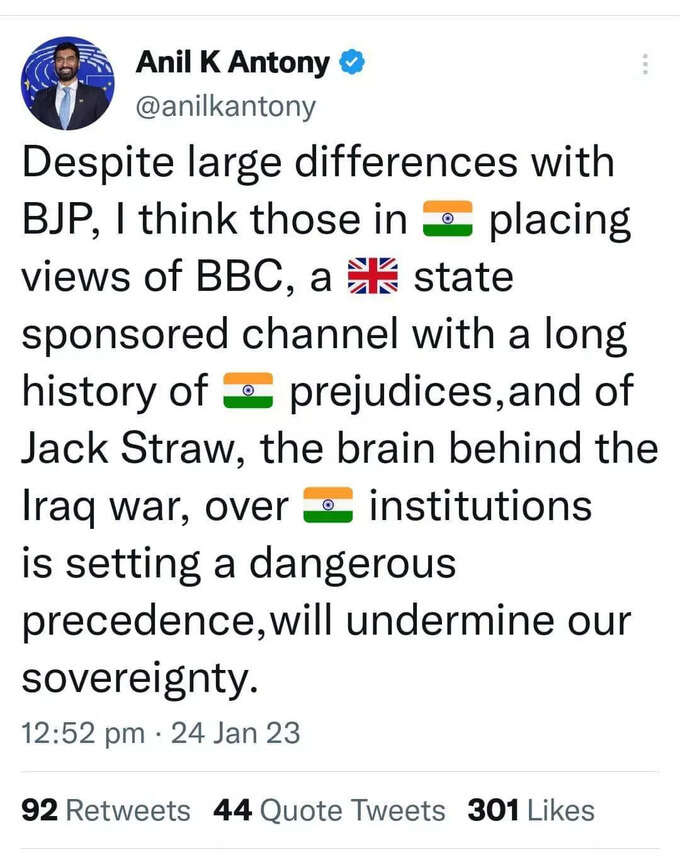 Let us tell you that the Ministry of Foreign Affairs has termed this BBC documentary as a part of such propaganda which shows a colonial mentality. The opposition leaders have hit the center hard on this issue. When Narendra Modi was the Chief Minister of Gujarat, there were fierce riots in Gujarat. It is worth mentioning that the committee formed on the direction of the Supreme Court to investigate the Gujarat riots gave a clean chit to Narendra Modi. The committee found no evidence against Modi in the case.
Read Latest World News And Gujarat News